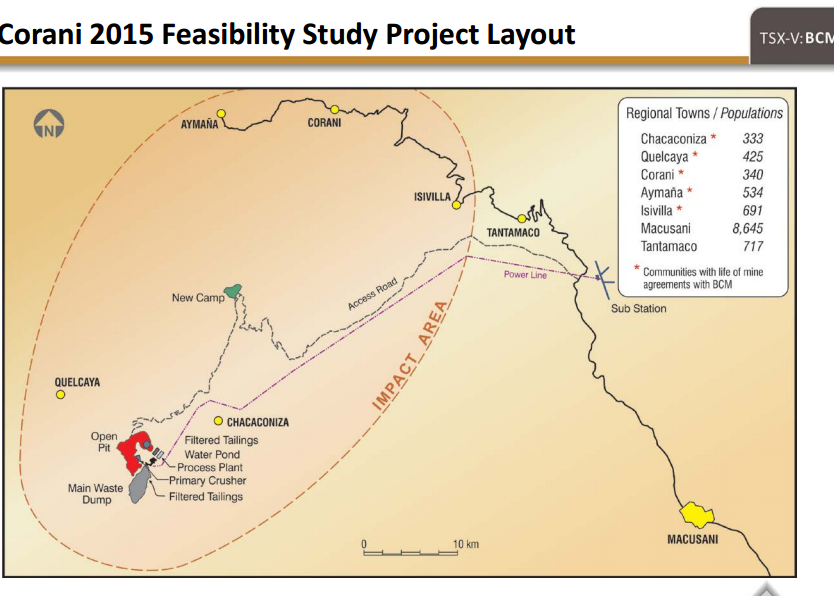 A look some of the press releases catching my eye this morning.
Bear Creek Mining – (BCM:TSXV) – Bear Creek has released an updated feasibility study on the Corani deposit in Southern Peru. Corani is one of the worlds largest silver-zinc-lead deposits and was discovered in 2006.  Bear Creek states that the area is mining friendly with favourable access and good infrastructure.
The updated feasibility shows a reduction in total costs as well as optimization of metallurgy and the mine plan. The previous feasibility was published on December 22, 2011.
Highlighted changes from the old FS include;
43% increase in Net Present Value from 2011 FS;
$54 M decrease in Total Capital;
13.4 M oz/yr payable Ag (yrs 1-5); 8.4 M oz/yr LOM;
All-in Sustaining Cost $(0.23)/oz (yrs 1-5); $3.85/oz LOM.
The economics look good with a NPV of $660 M, an IRR of 20.9%, and a payback period of 3.6 years. Initial capital is projected at $625 million with an additional $39 million in sustaining costs.
*** Note ***
| | |
| --- | --- |
| Metal prices used to estimate Mineral Reserves | $20/oz Ag, $0.95/lb Pb, $1.00/lb Zn |
| Metal prices used to estimate Mineral Resources | $30/oz Ag, $1.425/lb Pb, $1.50/lb Zn |
| Metal prices used for Economic Analysis | $20/oz Ag, $0.95/lb Pb, $1.00/lb Zn |
Even using the June 1, 2015 silver, lead and zinc prices of $16.71/oz, $0.87/lb and $0.98/lb respectively, Corani has a Net Present Value of $372 M and a 14.9% Internal Rate of Return.
Andrew Swarthout, President and CEO of the Company, commented "Corani remains one of the world's largest undeveloped silver-base metal deposits and is the key driver for growth at Bear Creek. As a result of the modifications to the Corani mine design in the updated 2015 Corani Feasibility Study, we have created a more compact, efficient and cost-effective operation with a smaller physical and environmental footprint, which we expect will result in a shorter and less costly path to permitting. We were able to further refine the geo-metallurgical model and mine sequencing, which led to an 8% increase in overall silver recovery with a 7% increase in silver reporting to the lead concentrate relative to zinc, partially offsetting the effects of the small ore reserve reduction."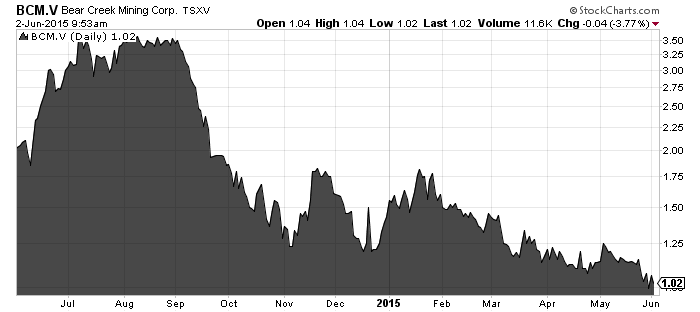 Bear Creek Mining  stock has been crushed over the last 8 months. The big drop in October came as a result of an announcement that Bear Creek was going to arbitration against the government of Peru regarding the Santa Ana dispute.
In the arbitration proceeding, Bear Creek seeks full reparation resulting from, among other things, the expropriation of the Santa Ana project and Peru's violations of the TPA and international law.
Cash balance is ~$29 million so need to finance any time soon. Next steps would include financing discussions and permitting. Bear Creek will need to modify the ESIA already received to move forward in the permitting process.
Read: Bear Creek Mining Announces Results of Updated Corani Feasibility Study
Related: Bear Creek battens down the hatches to save money for big Peruvian silver mine
Alamos Gold – (AGI:TSX) – Positive news for Alamos shareholders this morning as the Turkish High Administrative Court has overturned permits that were cancelled by the Ministry of the Environment and Urbanization.  The environmental impact assessment for the Kirazli gold project has now been reinstated.
The Kirazli gold project is expected to be a low cost gold producer and can be built within 18 months of final permits.  According to the PFS PFS, Kirazlı is expected to produce an average of 99,000 oz of gold at total cash costs of $515/oz (inclusive of royalty) over a 5 year mine life.
"We are very gratified to have received this positive ruling from the Turkish High Court. This follows a number of positive developments in Turkey this year including the dismissal of the injunction against our Agi Dagi EIA, the passing of a new, and in our view, progressive mining law, and a recent reduction in forestry fees. We look forward to advancing the Kirazli project toward production. With strong economics this will be our next low-cost gold mine," said John A. McCluskey, president and chief executive officer.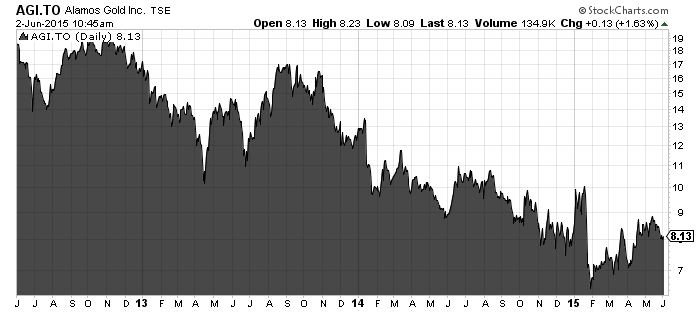 Alamos Gold shareholders have suffered with the drop in the gold price, issues at the Mulatos mine, and permitting issues in Turkey. It appears the issues in Turkey are slowly being worked through with a new mining law being passed.
Alamos announced in April plans to merge with AuRico Gold to create a leading intermediate gold producer.  A special meeting of Alamos and AuRico shareholders will take place on June 24 with the transaction expected to close shortly after.
Haywood Securities has a $9.50 target on Alamos.
Read: Turkish High Court Issues Ruling Reinstating Kirazli EIA Permit
Related: Morning News – A gold mining merger, high grade zinc drill holes, and more
Please join us in CEO live.
This is not investment advice. All facts are to be checked and verified by reader. As always please do your own due diligence.