A look at some of the more interesting mining press releases out this morning with some additional thoughts.
Mariana Resources – (MARL:AIM) – Mariana has released more drill assays from the promising Hot Maden project in eastern Turkey. Step back drilling has intersected high grade mineralization of 109.9m @ 11.9 g/t Au and 1.13% Cu in hole HTD‐13.
Hole HTD-13 was a step back hole towards hole HTD-05 which intersected HTD‐05: 82m @ 20.4 g/t Au & 1.9% Cu from 147m downhole, including a bonanza 13m @ 88 g/t Au & 2.5% Cu from 150m downhole.
Three more holes with assays were released today.
Highlights
Drill hole HTD‐13, the 'step back' hole designed to test the down‐dip extension to the high grade Au‐Cu mineralisation intersected in HTD‐05, successfully intersected 109.9 metres (m) @ 11.9 grammes per tonne (g/t) Au and 1.13 percent (%) Cu from 259.1m.
Drill hole HTD‐12, the 'step forward' hole designed to test the up‐dip extension to the Au‐Cu mineralisation intersected in hole HTD‐11, successfully intersected 38m @ 3.0 g/t Au and 1.74% Cu from 227.0m.
Drill hole HTD‐14 intersected a north west‐trending, post mineralization fault zone. Nevertheless, the highly milled material in HTD‐14 did return the following intercepts: o 8m @ 2.2 g/t Au and 0.23% Cu (37m‐45m), 17.3m @ 1.05 g/t Au and 0.31% Cu (70.7m‐88.0m), 10m @ 1.29 g/t Au and 0.85% Cu (104m‐114m), and 3.5m @ 1.96 g/t Au and 0.74% Cu (116m‐119.5m).
Chief Executive Officer Glen Parsons today commented: "Hot Maden continues to deliver continuity of grade in the Au‐Cu mineralised zone within the current focus area.  Encouragingly the very high grade Au‐Cu core is also demonstrating continuity and continues to deliver exceptional results. The confirmation of continuity in mineralisation is an important step in our objective of ultimately defining a mineral resource at the Hot Maden project."
More assays to come for investors as hole 15 is complete and holes 16 and 17 are under way.
As a reminder to investors Mariana's JV partner Lydia is earning in to 70% of this project which will leave 30% interest for Mariana.
We will continue to follow the developments of this promising looking discovery at the Hot Maden project at CEO.ca.
Read: Hot Maden, Turkey: Further Continuous High Grade Intercept of 109.9m @ 11.9 g/t Au and 1.13% Cu in Step Back Hole to HTD‐05
Related: Video: What's next for mining's most promising new discovery
Integra Gold – (ICG:TSXV) – Integra has launched a $1 million dollar crowd sourced Gold Rush contest at the Sigma-Lamaque gold property in Val d'Or, Quebec.
Integra will release a large database (six terabytes) of information to the public which spans over 75 years of exploration at the Sigma/Lamaque mine.
The database will be released in September on-line to anyone interested in helping Integra make a new gold discovery.
The prize of $1-million, which will be broken out into a number of categories, will be awarded to whomever comes up with what the company and the competitions board of advisers believe is the highest-probability location for a major gold discovery.
Integra has already made significant headway in raising the award money through sponsorships and plans to announce the winners next March in Toronto at the PDAC mining conference. Interesting that this contest appears to be sponsored. I wonder how much will come out of ICG's own treasury?
"By giving the public access to this data, Integra hopes to tap into the collective brainpower of thousands of participants and save itself years of time and resources to identify high-potential exploration targets we likely wouldn't even know exist," said chief executive officer Stephen de Jong. "By utilizing external sources, this competition allows us to stay focused and disciplined on the work we are doing at our Triangle zone and Lamaque South property, and at the same time move forward with an exciting exploration target."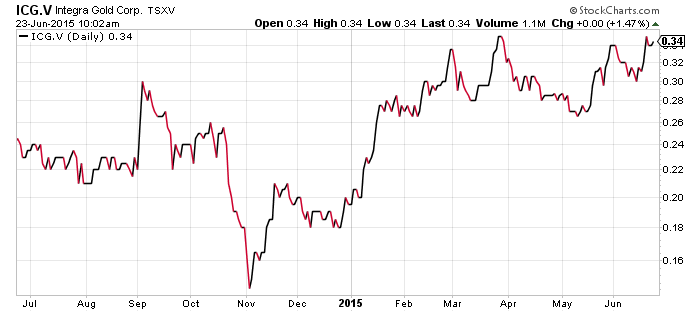 A good looking chart for Integra since November with a steady rise up to the current price of $0.34.  Lots of drilling results and an updated PEA were the catalysts behind the move.
I like the idea behind the Gold Rush challenge. I believe the more sets of eyes on something the better odds you have of figuring something out.
This is not a new idea as back in 2000 Rob McEwen of Goldcorp posted a similar challenge to help Goldcorp find additional ounces of gold in Red Lake, Ontario.
Haywood has a price target of 65 cents on ICG shares.
Read: Integra Gold Corp. Launches $1,000,000 Crowd-Sourcing Gold Rush Challenge with the Objective of Finding Val-d'Or's Next Big Gold Discovery
Related: Integra Gold: Way Undervalued and Seriously De-risked
This is not investment advice. All facts are to be checked and verified by reader. As always please do your own due diligence.