A look at a few of the mining headlines out this morning with some additional comments.
Eldorado Gold (ELD:TSX) – Eldorado has received a key mining permit for the Eastern Dragon project in Heilongjiang province, China. A project permit approval (PPA) has been approved by the National Development and Reform Commission.
In China the PPA is the most significant permit required as it includes a review of all other previous permits received.
The Eastern Dragon project is a high grade gold and silver epithermal vein deposit. Current proven and probable reserves stand at 744,000 ounce of gold @ 7.70 grams per tonne gold and 6.8 million ounces of silver @ 70 grams per tonne silver.
The plan is to start with an open-pit mine and then become and underground operation which will lead to a mine life of 10 years based on current proven and probable reserves.
The project is owned 75% by Eldorado. CDH investments owns a 20% stake in Eastern Dragon purchased for $40 million in 2014 and a minority jv partner owns 5%.
Paul N. Wright, Eldorado's Chief Executive Officer commented, "The PPA is the major permit approval required in the development of what we consider one of the highest quality gold assets in China. This permit represents years of hard work and determination by our team in China, in combination with key support from the Canadian and Chinese governments."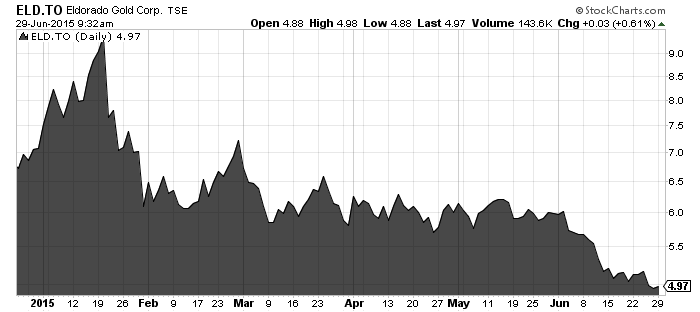 Eldorado stock has almost been cut in half in 2015 as issues with a project in Greece and a weaker gold price. Greece is only 20-25,000 ounces of the estimated production of ~700,000 ounces for 2015. The issue is a couple key development projects for growth are located in Greece.
Eldorado will recommence work at the Eastern Dragon site in July.  Eldorado is familiar with operating in China with three mines currently in production in the country.
ELD has A strong balance sheet of nearly $494 million in cash and cash equivalents at March 31,2014.
CEO, Paul Wright purchased 12,500 shares @ $5.05 per share in the open market on June 16th and now owns 1,101,399 common shares.
Read: Eldorado Receives Project Permit Approval for the Eastern Dragon Project
Royal Nickel – (RNX.TO) – Royal Nickel has agreed to sell Orion Mine Finance a 0.75% NSR royalty on the Dumont Nickel project for $10 million USD.  The agreement also includes 10 million RNX shares (worth $3.95 million CAD @ 39.5 cents per share).
The Dumont project hosts the third largest nickel reserve in the world. The focus now is on financing the $1.2 billion dollar CAPEX.
In my opinion it will be extremely tough to get this financing done as an economic analysis done in June (2013) showed an after tax return of 15.2%  using a long term nickel price of $9.
The nickel price today is $5.71 per pound.
Royal Nickel does have a few things working in its advantage though as many analysts are forecasting a nickel deficit which should lead to higher nickel prices down the road.
The second advantage is the possibility of a takeover as their are very few big nickel projects available.
"This financing will allow us to advance our efforts on a number of fronts, including the generation of bulk samples of roasted concentrate to confirm concentrate roasting as a lower cost processing alternative for the Dumont project. We are now working towards completing the capital raising phase of the project in a timely manner to allow us to begin construction activities by early 2016" said Mark Selby, President and CEO of RNC.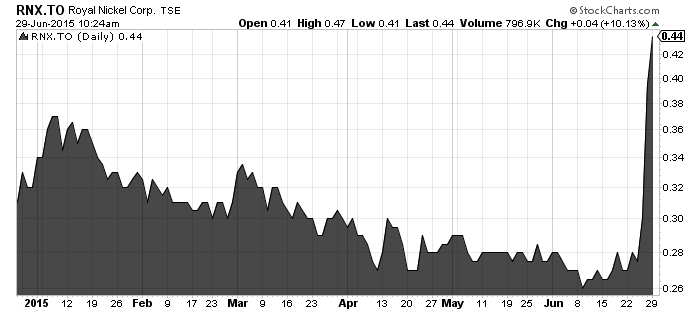 The market likes the news this morning sending RNX shares higher by 7.5% (3 cents) in early trading.  This coming off a nice move last week as the environmental permit was received for Dumont.
Swedbank has been appointed as senior bond advisor to help raise $600 million via bonds. If financing can be complete the goal is to start construction by early 2016.
Read: Royal Nickel Announces C$12 Million Royalty and Private Equity Financing from Leading Global Mining Investor
This is not investment advice. All facts are to be checked and verified by reader. As always please do your own due diligence.