A look at a few news releases that caught my eye this morning.
Endeavour Silver – (EDR:TSX) – Endeavour Silver has released second quarter operating results this morning. Production was up 6% for silver and 14% for gold on a year over year basis. Investors will need to wait until financial results are released on August 6th to see if EDR was profitable.
It has been awhile since I mentioned a silver company in the morning news.The main reason is simply because the majority of them are not profitable at sub $18 silver. Silver is trading at $15 this morning so most companies are losing money hand over fist.
Share prices on silver companies have deservedly been punished as like most mining companies management focused on growth at all costs. This would have worked at $30 silver but many management teams got to excited and are suffering now.
Endeavour CEO Bradford Cooke commented, "Our main theme in operations during the second quarter was the El Cubo mine expansion to 2,200 tonnes per day (tpd) in order to continue driving cash and all-in sustaining costs down. I am pleased to say that El Cubo achieved its 2,200 tpd target as planned at the end of Q2, 2015 (see table below).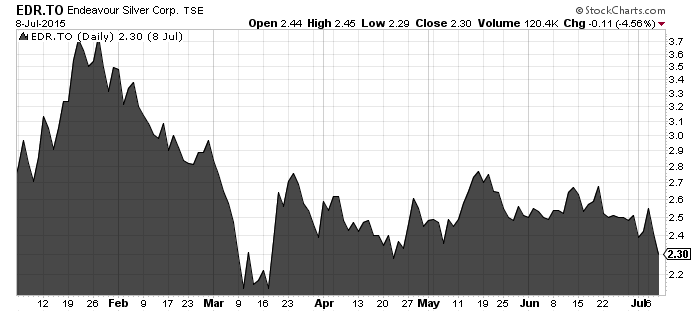 Endeavour was as high as $10 a share just a few years back.
Investors will want to look for EDR to be profitable and hopefully start generating free cash flow.
It appears that management has finally got operations turned around at El Cubo but we will wait for financials for verification.
Net earnings were $1.4 million in the first quarter but with lower silver will be hard to break even this quarter I would think.
Read:  Endeavour Silver Produces 1,769,741 oz Silver and 13,047 oz Gold (2.7 Million oz Silver Equivalent) in the Second Quarter, 2015
Kirkland Lake Gold – (KGI:TSX) – Kirkland Lake Gold has reported year end and fourth quarter fiscal results. Note Kirkland Lake uses a different year end than most companies. Kirkland has completely turned operations around and generated $30.7-million in free cash flow in fiscal 2015.
Going on about my rant in silver producers not making money (above) the same can be said for most gold producers. Kirkland  management understands that the bottom line comes down to making a profit.
As a result of this the share price has been an out performer.
George Ogilvie, chief executive officer of the company, also commented: "We are very proud of our accomplishments during fiscal 2015. Our business has made positive strides forward over the course of the last 12 months, and each and every one of our employees needs to be commended for the commitment they have shown in turning our business around. However, there are still challenges ahead that will require time and effort before the business is fully functioning at an optimum level. I am however, confident that we are on the right track and that the management team we have assembled, in conjunction with our motivated work force, is qualified and capable of addressing these challenges."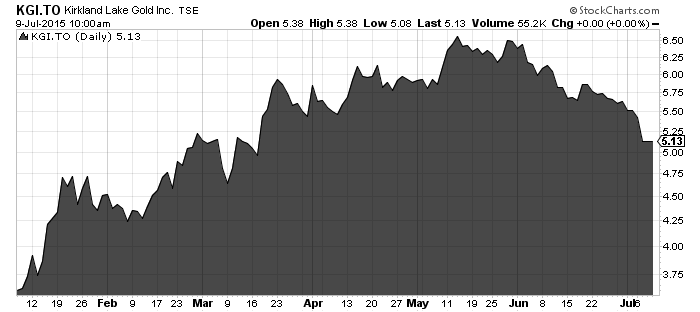 In this kind of market environment in my opinion it is smart to focus in on companies generating free cash flow.
One of those companies at the top of my list would be Kirkland Lake.
Read: Kirkland Lake Gold Reports Fiscal 2015 Fourth Quarter and Year End Results Generating $30.7 Million in Free Cash Flow
Watch: George Ogilvie, Chief Executive Officer, Kirkland Lake Gold joins BNN's The Street for a look at its latest quarter and how it's been able to control its costs
This is not investment advice. All facts are to be checked and verified by reader. As always please do your own due diligence.