A look at a few of the mining press releases out this morning that caught my eye with some additional comments.
B2Gold – (BTO:TSX) -B2Gold is out with second quarter production results of 121,566 ounces. BTO is one of he fastest growing mid tier producers and hopes to grow production from 380,000 in 2014 to over 900,000 ounces in 2018. Production this quarter was helped by the recently completed low cost Otjikoto mine in Nambia.
Second quarter financial results will be released on Friday August 14th.  In the first quarter B2Gold earned $6.4 million.
Second quarter 2015 highlights:
Record quarterly consolidated gold production of 121,566 ounces, 42 per cent greater than in the same period in 2014;
Gold revenue of $136.5-million on sales of 114,423 ounces at an average price of $1,193 per ounce;
Otjikoto mill expansion from 2.5 million tonnes per year to three million tonnes per year remains on schedule, expected to increase gold production even further starting in September, 2015;
Company is on track to meet its 2015 annual guidance of 500,000 to 540,000 ounces of gold production at cash operating costs between $630 to $660 per ounce and all-in sustaining costs between $950 and $1,025 per ounce;
New $350-million corporate revolving credit facility finalized;
Robust results from the new optimized feasibility study for the Fekola project in Mali announced on June 11, 2015.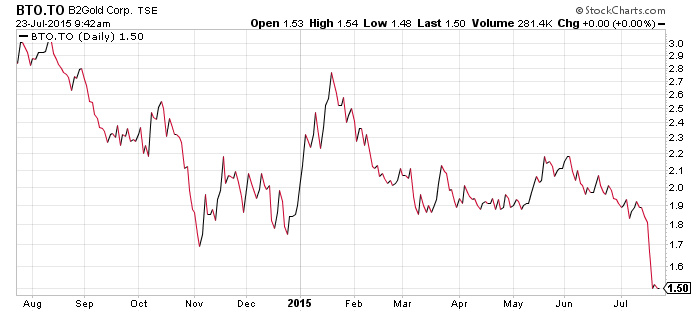 BTO has experienced a sharp sell off in the last week with the drop in the gold price. To me everything seems to be going OK operationally.  Another potential reason for the sell off could be the large number of shares out (925M) and with gold declining funds/shareholders being forced to liquidate.
It looks to be me like an opportunity in BTO stock but I would wait for financial results to confirm this.
Read: B2Gold Corp. Achieves Record Second Quarter and First-Half 2015 Gold Production; Gold Production Increases 42% in Second Quarter 2015
Related: AME BC Roundup 2015 begins with wisdom from B2Gold CEO Clive Johnson
Teck Resources – (TCK.B:TSX) – Commodity giant Teck Resources is out with 2nd quarter financial results earning an adjusted profit of $79 million (14 cents per share). Teck was definitely helped by a lower Canadian dollar in the quarter.
Highlights and significant items:
Profit attributable to shareholders was $63-million, and earnings before interest, taxes, depreciation and amortization were $596-million in the second quarter.
Gross profit before depreciation and amortization was $676-million in the second quarter compared with $636-million in the second quarter of 2014.
Cash flow from operations, before working capital changes, was $531-million in the second quarter of 2015 compared with $520-million a year ago.
The company has reached agreements with the majority of its customers for the third quarter of 2015, based on a quarterly benchmark of $93 (U.S.) per tonne for the highest-quality product and the company expects total sales in the third quarter, including spot sales, to be at least six million tonnes of steelmaking coal.
A falling Canadian dollar, lower oil prices and the company's cost reduction program have contributed to reduce U.S.-dollar unit costs for products with copper and coal unit costs falling by 15 U.S. cents per pound and $17 (U.S.) per tonne, respectively, compared with last year.
The company's liquidity remains strong at over $6.5-billion, inclusive of $1.5-billion in cash at July 22, 2015, and $4.2-billion (U.S.) of undrawn, committed credit facilities. The company's cash balance is in line with expectations and consistent with its goal of finishing the year with at least $1.0-billion in cash.
"Our operations have turned in a solid performance for the quarter," said Don Lindsay, president and chief executive officer. "All of our operations have remained cash flow positive after sustaining capital investment and our balance sheet remains strong with over $6.5-billion of liquidity. This has been achieved notwithstanding a material drop in the U.S.-dollar spot coal price since the beginning of 2015."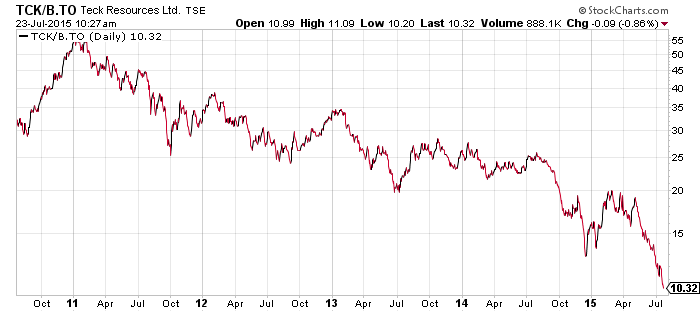 A tough chart to stomach for TCK shareholders. A very steep sell off in the last couple months as commodities have been hit hard.
Teck is a large coal,copper, and zinc miner. All three have been under pressure lately as worries about growth in China slowing down.
At some point Teck stock will turn around just like it did in 2009 ($4 to $60 in 2011).
CIBC guru Tom Meyer has a price target of $22 on Teck stock.
Read:  Teck Reports Unaudited Second Quarter Results for 2015
This is not investment advice. All facts are to be checked and verified by reader. As always please do your own due diligence.