Strategic investments that bring technical and human expertise as well as capital propel new discoveries. And Cordoba Minerals Corp. (TSX-V: CDB) recently nailed those objectives through an earn-in agreement with Robert Friedland's HPX Minerals — and it all started with an elevator pitch, literally.
On May 8, Cordoba announced that privately owned HPX (High Power Exploration) would take an 11% equity interest (15.5% with warrants) through a private placement in the company, which is developing the San Matias copper-gold project in northwestern Colombia. HPX can also earn up to a maximum 65% of the San Matias project by spending an additional $16.5 million and taking San Matias through a feasibility study. The deal gives Cordoba access to HPX's proprietary Typhoon induced-polarization technology.
CEO.CA sat down with Cordoba Minerals president Mario Stifano to discuss the San Matias project, its new partner, how to manage risk in overseas jurisdictions, and how having the right project makes all the difference.
CEO.CA:  How did your deal with Robert Friedland's HPX came together?
Mario Stifano: At the 2014 BMO Conference, I walked into the elevator and typically it is pretty busy but this time it was just Robert Friedland. I turned to him and pitched him on Cordoba. He asked me to come back later that night and I spent about an hour explaining the project. He was intrigued. He liked the size of the land package, the high-grade drill results and the magnetics, and he liked that it was under BHP's nose. He decided to get his team involved. So, over the year, they visited the site and we had numerous discussions on how to structure a deal. At the time, we had already opened ourselves to other potential joint venture partners. We were a bit ahead of the curve because I was already thinking, "What if I do not raise money on the next round?" Robert was always my No. 1 choice, and being a superstitious Italian, I thought there must have been a reason why I was alone in the elevator with Robert Friedland! We had some very large world-class companies come to check out the site. We got multiple offers, but we wanted to work with Robert and his team at HPX. HPX has been a great partner and extremely supportive.
We are in the northern part of Colombia. All the other gold-with-copper discoveries are in the Mid Cauca Belt, which starts more or less where Continental Gold's (TSX-V: CNL) Buriticà asset is and goes all the way down to La Colosa — Anglo-Gold's massive open-pit project. That is where everyone's focused. That area is more difficult for open-pit because it looks to be lower grade, on top of that you are high above sea level. So you're trying to mine in an open-pit manner for lower-grade gold in the mountains.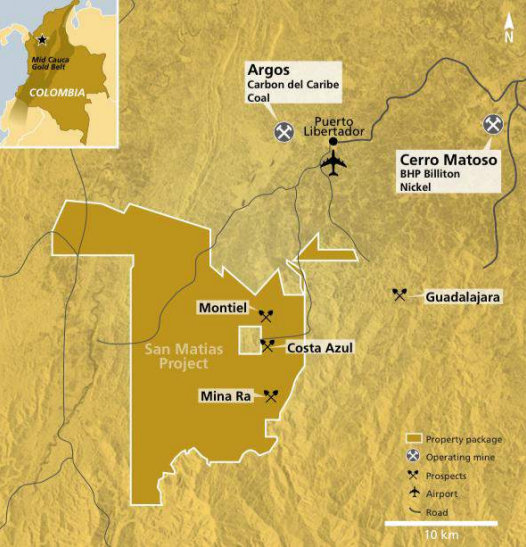 We are on the northern extension of this belt, which was really focused on nickel. The Cerro Matoso nickel mine is now run by South32, the company that BHP spun its non-core assets into. They've been operating this mine for 30 years and it probably still has another 30 to 40 years of reserves. So basically what you have here is a district focused on open-pit mines. There are two open-pit coal mines near our land package. No one really explored this area for copper-gold until we came around. We actually locked up the district when Cordoba was partly private because there were three companies that came together to form Cordoba. When I was working with one of these companies, we realized no one else knew there was copper-gold in this district, so we picked up another 200,000 hectares of ground all around us. We spent a bit of time walking the ground, talking to people and checking the government databases. We not only picked up copper and gold but another coal belt; we also picked up a big land area north of Cerro Matoso itself.
CEO.CA: What's it like working with Friedland?
Mario Stifano: Robert Friedland's experience and track record speaks for itself. There is no one better at finding world-class mines than Robert Friedland's team — everything from Voisey's Bay and Oyu Tolgoi to his assets in Africa. But in addition to that, the one thing that Robert Friedland has is a proprietary technology called Typhoon, which is a super-charged IP (Induced Polarization). With the Typhoon technology, we can look up to 2 kilometres below surface. That allows us to combine our ground magnetics with their IP technology, which no one else has access to. It allows you to do 3D-like imaging at depth and we will understand where this high-grade is coming from and really pinpoint our diamond drilling program. When you are able to see this level of data on top of finding high-grade copper and gold soil anomalies at surface, we think we have something special.
CEO.CA: How is the current security situation in Colombia for junior miners and explorers?
Mario Stifano: It is a strategic area for Colombia because of the two coal mines, big massive nickel mine, and they just built a $400-million power plant with the Chinese and the Panamanian government to export electricity to Panama. So in this region, you have coal, even on South32 lands. There is a lot of investment going into this region by the government and the mining industry.
We have never had a security incident and FARC has never had a presence. When we did our deal with HPX, this was one of the first questions they asked. They hired an independent company to check the region and it came up clean. When looking at projects in Colombia, you have to ask that question: Is the area workable and safe? There are lots of places around the world where you have to ask these questions.
CEO.CA:  What is Cordoba's timeline?
Mario Stifano: This is the time to start positioning with Cordoba. We are going to launch the Typhoon program in the fourth quarter to really understand what is going on at depth. Then the plan is to do a 4,000-metre drill program early part of 2016. Then we are going to try and prove up the high-grade discovery we had and follow up on previous drilling. We now realize the high-grade is highly associated with the magnetite. Where we had elevated levels of magnetite, we had high grade. We did a ground magnetics program, we did 50-metre spacing on our targets and 100-metre targets outside our area. We are seeing a much larger picture of what the airborne magnetics are showing, which is extremely positive. With the Typhoon technology that Friedland and HPX has, they can zero in on and try to identify the boronite and chalcopyrite. The technology is so sensitive that they could actually identify the markers for the different types of mineralization because we know that with the high grade we have magnetite and boronite because we are in the potassium core and we have the chalcopyrite for the copper. With the ground magnetics and their typhoon IP technology, I think we can really zero in on the high grade.
The catalysts are the launch of the IP with Typhoon technology, the drill program and after that the joint venture phase with the targets we've identified. Everywhere we test on this 13-kilometre trend we are finding copper and gold, which makes it a bit more complicated because you have to pick which target to hit first. The Typhoon technology will help identify the best ones.
CEO.CA: Anything else our readers should know?
Mario Stifano: It is very rare in the current junior space that virtually everyone has limited money or no money. There are very few juniors with the ability to go out and aggressively drill and explore. Cordoba is one of the very few and unique companies with a world-class partner and the financial ability to go out and aggressively drill its properties. You want to position yourself with companies that are going to be able to advance their project when the market turns. They are the ones best positioned to take advantage of changing market conditions. We really think we are there: we have a great partner in HPX, the ability to raise capital. In the agreement, HPX has the right to backstop a minimum of 50% of our equity issues. We are always going to have the ability to raise capital when we need to. At the project level, we have one of the best mine finders in the world, Robert Friedland, with our team trying to find the big one. What you really want to do is find those companies that can move forward in a down market and position themselves for when the market turns.
The biggest thing here is that you can have all those three critical aspects but if you do not have the project, it will not go anywhere. What I think we have is one of the best copper-gold exploration plays out there. We are early-stage but based on our understanding of the region and the work we are doing, we have one of the best, most exciting projects. Stay tuned.
Related: Cordoba Minerals drills Colombia's next copper-gold porphyry belt | CEO.CA
Follow Cordoba Minerals at chat.ceo.ca/CDB for coverage from our community and insider trade notifications from SEDI in real-time.
Cordoba Minerals (TSX-V: CDB) Snapshot:
Shares Issued: 66.1 million
Market Cap (Sept. 24, 2015): $6.6 million
52-week high: $0.34
52-week low: $0.08
DISCLAIMER: The work included in this publication is based on SEDAR filings, current events, interviews, and corporate press releases. It may contain errors, and you shouldn't make any investment decision based solely on what you read here. The views expressed in this publication and on the CEO.CA website do not necessarily reflect the views of Pacific Website Company Inc., publisher of CEO.CA. Cordoba Minerals is a past sponsor of CEO.CA conferences, which makes CEO.CA biased in its coverage of Cordoba Mineral Corp. This publication is provided for informational and entertainment purposes only and is not a recommendation to buy or sell any security. Always thoroughly do your own due diligence and talk to a licensed investment adviser prior to making any investment decisions. Junior resource companies such as Cordoba Minerals Corp. can easily lose 100% of their value so read Cordoba's profile on www.SEDAR.com for important risk disclosures. It's your money and your responsibility.