A look at a few mining headlines out this morning.
Premier Gold and Barrick Gold hit high-grade gold at the South Arturo project in Nevada
Initial drill assays from Kaizen Discovery at the Coppermine project
A mining license for Sunridge Gold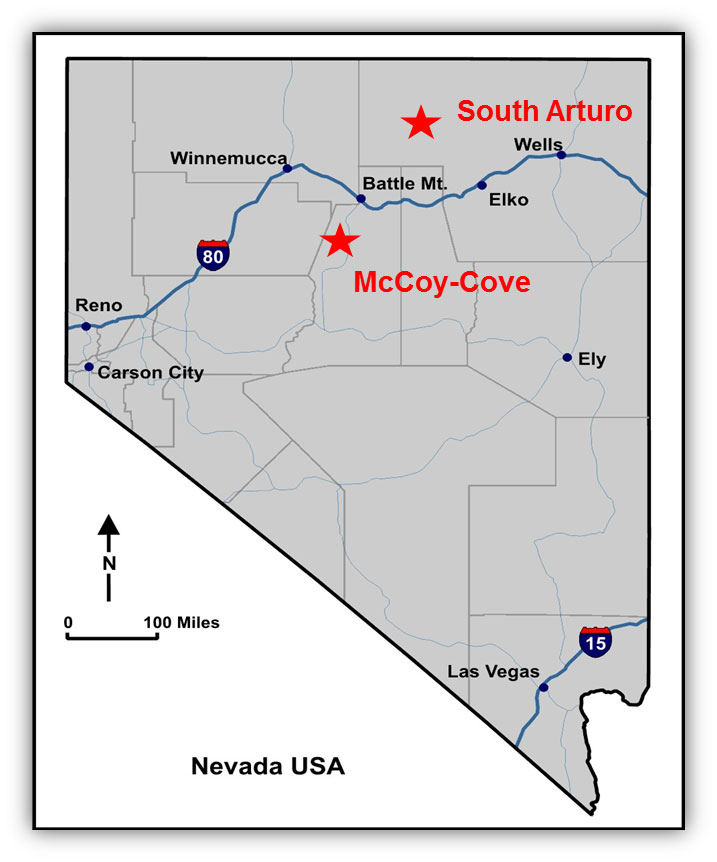 Premier Gold (PG:TSX) and Barrick Gold (ABX:TSX) –  Impressive assays from the South Arturo project in Nevada, which is 40% owned by Premier and 60% owned by Barrick. The drilling occurred at the NE Button Hill target area immediately below the Phase 2 pit at the South Arturo mine, which is expected to go into production in 2016.
South Arturo project highlights:
Development work continues to advance open-pit operations – Premier has funded the projected spend to the end of November.
Drilling to test the continuity and expansion of the NE Button Hill underground target confirms high-grade gold mineralization with intercepts as high as 25.7 g/t Au across 27.4 metres.
2016 gold production projected to be approximately 200,000 ounces of gold (80,000 to Premier).
"Exploration drilling at South Arturo is providing exceptional results in the underground target area immediately below the Phase 2 pit," stated Premier President and CEO Ewan Downie on the company's latest C-Suite blog. "This horizon is not part of current mineral resources, but is being evaluated as a potential multi-year underground extension following mining in the initial pit. The Carlin trend is world renowned for high-grade gold, and this drilling supports this potential on the JV property."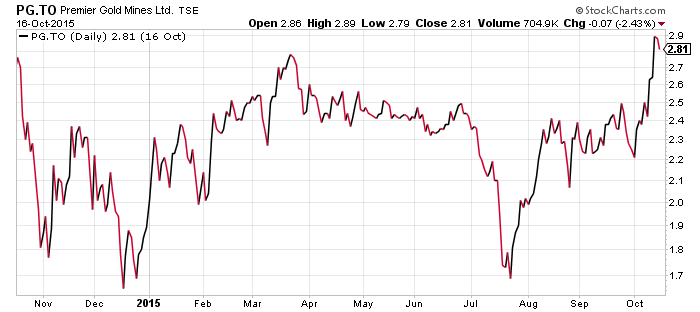 A nice move for Premier Gold since August.
Premier acquired its 40% interest in South Arturo earlier this year in a deal with Goldcorp. Premier paid $20 million in cash, plus Goldcorp's costs since March 2015, and an additional 5% interest in the Rahill-Bonanza property in Red Lake. Ore from Arturo will be trucked to one of Barrick's Goldstrike mill.
This deal was a game changer for Premier as they will now be a cash-flowing company in 2016 which should prompt a re-rating on the stock.
Premier this morning has a market cap of $484 million, with $80 million in cash and investments on the balance sheet.
NR: PREMIER PROVIDES SOUTH ARTURO PROJECT UPDATE – DRILLING CONFIRMS HIGH-GRADE UNDERGROUND TARGET
Kaizen Discovery (KZD:TSXV) – One of the most active companies on the TSX-V this summer when it comes to drilling is out with initial results from the Coppermine project in Nunavut.  Kaizen did intersect mineralization, but it's nothing that will excite the market.
Exploration geologist Rob McLeod commented in CEO Chat that while Kaizen didn't "hit it out of the park," he was impressed with the strength of the mineralizing system.
"80km strike length of redbed copper, with copper mineralization in all drill holes. This is the size of massive systems such as Kupferschiefer in Europe, or sediment-hosted copper systems in Africa," said McLeod, CEO of northwestern B.C. gold developer IDM Mining. "Discoveries often take multiple rounds of drilling. Won't move the market, but good to see a company doing generative work with the potential to hit it out of the park."
CEO.CA founder Tommy Humphreys caught up with David Broughton and Brent Cook to discuss the Coppermine project at PDAC 2015.
"We are encouraged with these initial results from the Coppermine Project," said David Broughton, Executive Vice-President, Exploration. "Our program has greatly expanded the regional extent of copper mineralization within this underexplored district, and hole DD009 demonstrates the potential for significant copper grades. We expect to follow up these results during the next field season with a drilling program targeting shallow, higher-grade zones within the western area, and both down-dip and strike extensions of this system."
A July presentation showed a cash position of about $9.5 million.
NR: Kaizen Discovery announces drilling results from 2015 exploration program at the Coppermine Project in Nunavut, Canada; Reconnaissance drilling intersects mineralization over a strike of 40 kilometres, doubling the extent of known mineralization in the basin; Final hole of program intersects significant copper grades and widths
Sunridge Gold (SGC:TSXV) – Sunridge has received three mining licenses for the Asmara project in Eritrea. Sunridge owns 60% of the project with the Eritrean National Mining Corp. owning the remaining 40%.
If financing can be arranged, the plan is to directly ship high-grade ore in the third quarter of 2016.
"The acquisition of the mining licenses is another important step forward for AMSC and Sunridge and we are grateful for the continued support of the Government of Eritrea," said Sunridge President and CEO Michael Hopley. "We now remain focused on our plans to finalize financing arrangements for Phase 1A – mining and shipping the high-grade copper and gold direct shipping ore from Debarwa."
SEDAR filings show Sunridge with a cash balance of just over $2 million as of June 30, 2015.
Sunridge presented at the Subscriber Investment Summit in Vancouver on Oct. 8 and a few of the live comments can be found here.
Read: Sunridge Gold Announces Receipt of Mining Licenses for Asmara Project
Thanks for reading.
This is not investment advice. All facts are to be checked and verified by reader. As always please do your own due diligence.