It's been a busy couple of days for Kirkland Lake Gold: this morning the Ontario high-grade producer announced second-quarter production results on the heels of its takeover offer for St. Andrew Goldfields yesterday.
Kirkland Lake Gold– (KGI:TSX) –  Second-quarter production for the quarter was 33,511 ounces, keeping Kirkland Lake on track to meet annual guidance. Production was lower than expected, however, because of problems in underground operations in the SMC Muckbound. Some of the issues are resolved while the other are in the process of being rectified.
As a result of these issues, lower tonnage was mined (85,869) at a lower grade than expected: 13.7 g/t. It's worth noting that grade is still multiples of average grades being mined globally.
George Ogilvie, President & Chief Executive Officer, commented: "During the second quarter, scheduled repair work to the 5100 Level loading pocket, as well as the delayed delivery of new haulage equipment, temporarily impacted the team's ability to move rock. I'm pleased to report that the new haulage equipment is now fully operational, performing well and has assisted tremendously in alleviating the trucking bottleneck. In addition, stopes within the "Q Complex" on 5300L are back online with some ongoing rehabilitation work in the main access drift following a minor rock-burst in mid-October. While production this quarter was temporarily impacted by these constraints, we reiterate our production guidance of between 90,000 – 110,000 ounces for the full eight month period. Heading into the final two months of the year, we are encouraged to see the balance sheet grow for a sixth consecutive quarter, coupled with our ability to move our $7.9 million asset retirement obligation out of restricted cash. Further, our recently released regional and South Mine Complex exploration results, solidifies our commitment to the expansion potential in the camp."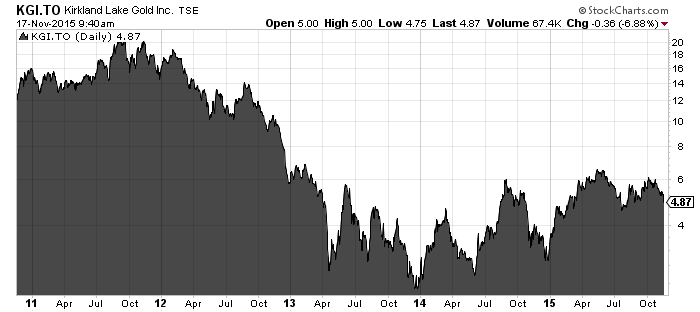 Just a few years ago, Kirkland Lake was a $20 stock. Operational issues at that time were covered up by the much-higher gold price.
The new management team has done a good job at turning operational performance around and has the mine running more effectively.
Yesterday Kirkland Lake announced a binding agreement to acquire St. Andrew Goldfields in a share-based deal.  The deal is for 0.0906 share of Kirkland Lake for each St Andrews share held. The premium at the time was 46%. St. Andrew shares were up 4 cents, or 10.5%, to 42 cents this morning while Kirkland Lake shares dropped 59 cents, or 11.3%, to $4.64 on the news.
The deal is expected to close in January.
Duncan Middlemiss, president and CEO of St. Andrew, stated: "We are pleased to be combining with another established producer to create a leading intermediate gold producer focused in Canada. St. Andrew shareholders will have the opportunity to benefit from the promising potential of the combined company, with greater trading liquidity and capital markets exposure to drive shareholder value. Both St. Andrew Goldfields and Kirkland Lake Gold are pleased to bring forth a consolidated Abitibi-focused company, as we all believe in the huge potential of our assets."
I like the deal as Kirkland Lake picks up a company in St. Andrew that has a good balance sheet, is generating free cash flow, and increasing production.
Hats off to CEO Chat regular @PamplonaTrader who had $SAS pegged as a takeover candidate from a post in February of this year.
As of Nov. 13, Kirkland Lake had cash and cash equivalents of $88.5 million.
Eric Sprott sits on the board of Kirkland and has a ~9% position in the stock as of the end of October. St. Andrew chairman Herbert Abramson and family members are the largest shareholders of that stock, holding more than 29% of outstanding shares.
Read: Kirkland Lake Gold Announces Gold Production of 33,511 Ounces for the Second Quarter of Stub Year 2015 With Enhanced Cash Position of $88.5 Million or Kirkland Lake Gold bids for St. Andrew Goldfields
Join the conversation about your favourite stocks and tap into some sharp insight at CEO Chat daily.
This is not investment advice and all investors should do their own due diligence. Own your trades.