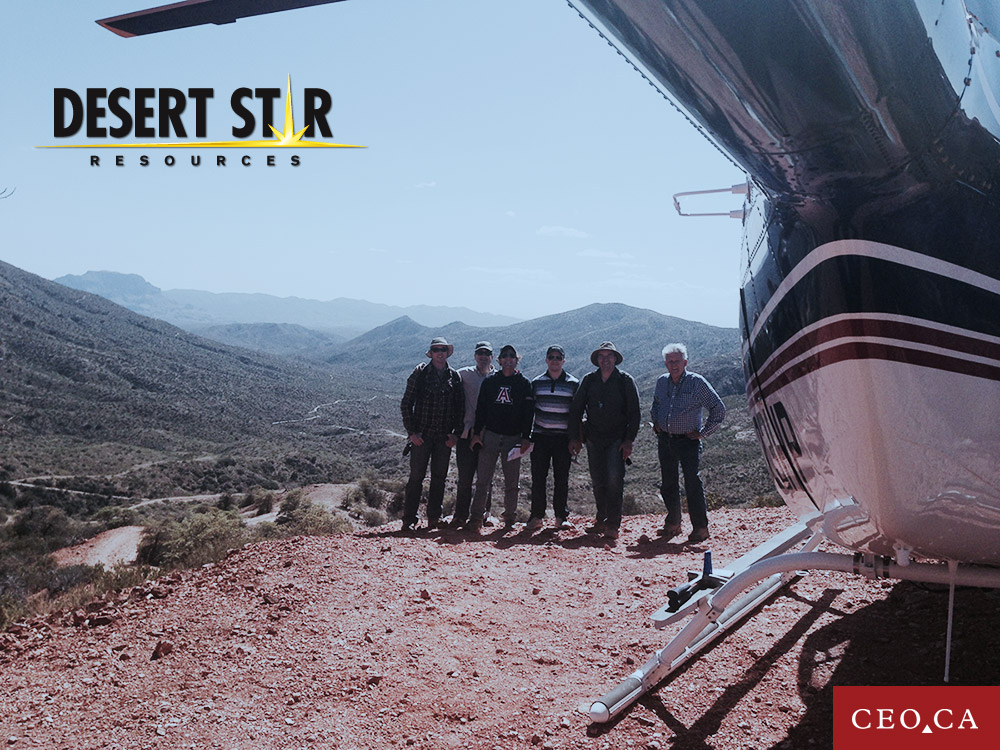 Global mineral exploration expenditures have fallen to their lowest levels in decades, the fallout from a four-plus-years bear market in commodities.
However, exploration remains the long-term research and development arm of the mining business, and some investors are still willing to finance its high-risk, high-reward endeavours.
One such explorer, Desert Star Resources (TSXV:DSR), is poised to take a few big swings in early 2016.
This morning the company announced that it had received approval from the U.S. Forest Service to drill its Copper King project, less than 5 km from Rio Tinto and BHP's Resolution deposit, which is in development.
A roughly 2,100-metre drill program is planned for mid-January, 2016. The target is a "porphyry-style alteration footprint that coincides with historic copper workings and an IP geophysical anomaly," according to Desert Star.
"We would only need three or four drill holes to determine whether our thesis about the porphyry is correct," Desert Star's Chief Geologist Alan Wainwright told CEO.CA in early 2014. Dr. Wainwright has a history of mineral discovery – he was involved with Kaminak Gold's Coffee discovery in the Yukon, and works closely with fellow geologist Dan MacNeil, VP of Exploration. Vancouver financier Vince Sorace is CEO of the company.
Desert Star is also expecting to receive approval to drill its Red Top project, adjacent to Copper King, in mid to late January, launching the drill program there simultaneously or immediately after the Copper King drill program.
On a tour of Desert Star's Arizona portfolio in March 2014, CEO.CA was impressed with the scale of mining operations in the region known as the Globe-Miami district, the site of continuous mining since 1878.
During the trip, Desert Star's management told us they would like to drill 2-3 holes in each of their three Arizona projects optioned from Eurasian Minerals, and are looking for a potential deposit with ~500Mt of ~1% copper.
The company will stretch its treasury to complete the two drill programs, with cash of $1,155,522 at October 31, 2015.
With 52,391,649 shares outstanding and a recent 15-cent share price, Desert Star has a market capitalization of roughly $5.8 million.
Here's a link to the news release: Desert Star Receives Approval to Drill Copper King Project in Arizona
Follow $DSR in chat.ceo.ca – the investment conference in your pocket.
Disclaimer: Author has a financial interest in Desert Star Resources and the company is an advertiser, therefore the article is not to be considered unbiased and fully independent. Please read Desert Star Resources Ltd.'s Cautionary Statement Regarding Forward-Looking Statements's carefully. This article is not intended to meet your specific individual investment needs and it is not tailored to your personal financial situation. Nothing contained herein constitutes, is intended, or deemed to be — either implied or otherwise — investment advice. This article reflects the personal views and opinions of Tommy Humphreys and that is all it purports to be. While the information herein is believed to be accurate and reliable it is not guaranteed or implied to be so. The information herein may not be complete or correct; it is provided in good faith but without any legal responsibility or obligation to provide future updates. Neither Tommy Humphreys, nor anyone else, accepts any responsibility, or assumes any liability, whatsoever, for any direct, indirect or consequential loss arising from the use of the information in this article.