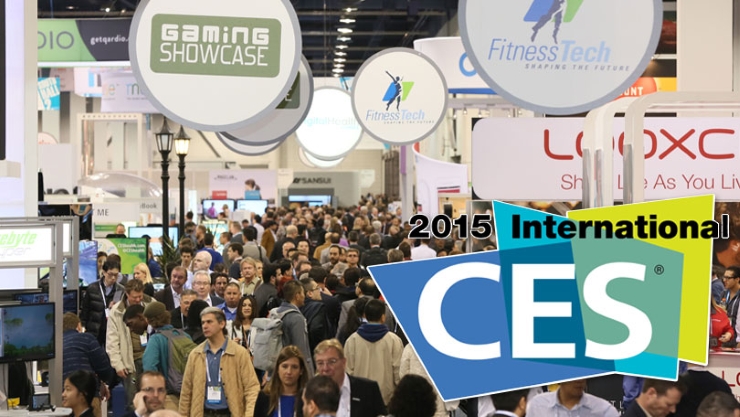 Themes and Trends at CES
The following Consumer Electronics Show recap was written by Pardeep Sangha, technology analyst at Haywood Securities. Email Riley Skinner (rskinner@haywood.com) to request a full copy of Mr. Sangha's CES report.
· The Consumer Electronics Show (CES) held in Las Vegas last week attracted over 170,000 attendees. There were approximately 3,200 exhibitors spread across 2.5 million square feet of exhibit space. We attended the major Keynote addresses as well as a number of panel and guest speaker sessions.
· There was no shortage of buzz around the numerous show floors at CES. Prevalent themes in the consumer electronics basket were Internet of Things (IoT) devices, Virtual Reality (VR), drones and 3D printing to name a few.
· A whole lot more than just consumer electronics. While CES continues to be a consumer electronics focused show, CES now brings bigger picture ideas to the table such as big data analytics, smart cities, self-driving vehicles, connected homes, artificial intelligence, and computer learning.
· Oculus leading the way in Virtual Reality. The buzz around VR headsets was set off when Oculus, the Facebook-owned company, said it was taking preorders for its Oculus Rift product which would begin shipping on March 28th to original Kickstarter backers with a price set at $599.
· Waiting for the content explosion. The main question around the VR market remains to be "content". The obvious starting point is the gaming community, who is generally willing to pay up for a premium experience.
· We believe Venture-listed Spectra7 Microsystems (SEV-V) provides an interesting opportunity to participate in the overall growth in the VR market. Spectra7 designs and markets the cabling which connects the VR headmounted display (HMD) unit to the console unit. Spectra7 has previously announced that it has almost 30 design-ins related to the VR and AR market.
· Toronto based AcuityAds (AT-T) stands to benefit from the growth in the programmatic advertising market. Over 60% of all digital advertising spend today is in programmatic advertising. Several discussion panels focused around programmatic advertising as a way of harnessing big data in order to increase efficiency in advertising spend.
· More intelligence in the enterprise. The emerging thesis on enterprise technology is that a rise in collaborative networks around data will provide intelligence for individual business users.
· Everything is going to be connected in the most efficient way possible. Over the next five years, mobile data consumption will be 8x what it is today. In fifteen years, we will have 1,000x the data we are downloading mobily on a global basis.
Keynote Addresses
Brian Krzanich (Intel CEO) – Focus on IoT
Reed Hastings (Netflix CEO) – Technology is handing control back to the consumers
Ginni Rommety (IBM Chairman, President, and CEO) – Data is humankind's next natural resource
Dr. W.P. Wong (Samsung SDS President) – Openness, interoperability and collaboration
Mary Barra (GM CEO and Chairman) – Connectivity, electrification, mobility, and autonomous driving
Espial Group Inc., ESP-T, $2.10. "Cord Cutting Driving Operators to Look for Alternatives like Espial"
Rating: Buy, Target: $4.40, Risk: High
Shares O/S: 36.4M MCap: $80.7M Cash: $47.5M Debt: $0 EV: $33.1M
· The best consumer experience generally wins. During a demo of Espial's product, it is clear that PayTV operators stand to significantly enhance the user experience based on the speed and functionality of Espial's product. The product allowed the user to more seamlessly scroll through available content.
· Espial continues to focus on its two leading European operators. Espial had previously forecasted TeleColumbus to launch in Q4FY15. Obviously, this has now slipped into Q1FY16. Management assured us that the Company continues to work with TeleColumbus; hence we are expecting TeleColumbus could launch at any time. We are still expecting the second operator to launch in the first half of 2016. We believe that launching both European operators will be a strong vote of confidence in not only Espial's product but also the Company's integration capabilities.
· Dollar value of RFPs is now higher than ever before. Espial is currently bidding on several RFP opportunities which are larger than previously seen. Management also expressed that the nature of its Proof of Concepts is also starting to change, as the Company will begin to see fewer POC announcements, but rather go directly to live customers since the first two European operators will act as reference customers. Hence, we believe there could be a flood of announcements in the second half of 2016, after the market gains confidence from Espial's first two deployments.
· Cord-cutting driving operators to look for alternatives with OTT gaining prominence at CES.The presence of several large operators at the conference this year is telling into how they will need to innovate in order to remain competitive in a market shifting to over-the-top (OTT) services. Telcos who were previously absent are now paying attention to the OTT demos at CES. The TV has been undergoing a disruption with OTT content providers (ex. Netflix, Hulu, Amazon) for some time now as consumers are offered content delivered when and where they want it. OTT providers are beginning to strip out and tailor content, as consumers want event-driven content live, and most other content on a video-on-demand (VOD) basis. Espial enables operators to compete in this new environment.
· We had the chance to talk to Alticast (ATCAST:KOSDAQ, NR) at their booth in CES. We realized that Alticast's offering is both a product and a service, as the solutions they provide are much more customized than Espial's. Espial management continues to view SeaChange (SEAC-N, NR) as the most direct competition in the space since its sells more of a product rather than a service.
Espial's Canadian software peer group currently trade at a 14.1× EV/EBITDA multiple and its industry peer group trades at 6.7× EV/EBITDA multiple of consensus CY16. Our target price is based on a blended 11.0× EV/EBITDA multiple of and a 3.0× EV/Revenue multiple of our CY17 estimates.
For a copy of Haywood's full Themes and Trends at CES 2016, email Investment Advisor Riley Skinner (rskinner@haywood.com) to request it.
Haywood Securities Inc., is a Canadian-based independent, full‐service investment firm and member of the Canadian Investor Protection Fund. The article is for informational purposes only and is neither a solicitation for the purchase of securities nor an offer of securities. Readers of the article are expressly cautioned to seek the advice of a registered investment advisor and other professional advisors, as applicable, regarding the appropriateness of investing in any securities or any investment strategies, including those discussed above. The information contained in the reports have been compiled from sources Haywood believes are reliable; however, Haywood makes no guarantee, representation or warranty, expressed or implied, as to such information's accuracy or completeness. The views expressed are those of the author and not necessarily Haywood Securities Inc. All opinions and estimates contained in the reports are based on assumptions the author believes to be reasonable as of the dates of the reports but are subject to change without notice. Either the author, Haywood Securities Inc. or its employees may from time to time hold or transact in the securities mentioned.