Via EnergyandGold.com:
Precious metals have had an awful month of November thus far with both silver and gold suffering significant declines while posting record losing streaks. Most notably silver has posted a record 14 consecutive losing sessions and is currently working on a 15th as I write this:
Silver (Daily)
Several things stand out to me regarding silver here:
The recent decline has been steady and it has taken place on fairly average volume which indicates a scarcity of buyers, not super aggressive sellers.
As volume picked up in recent days the rate of the decline slowed considerably which indicates buyers have been stepping in near support.
Silver still has not breached its August low.
We saw a  significant speculative capitulation in the most recent CoT data and i'm sure that this week's report will show more of the same:
 Large speculators (hedge funds, CTAs, etc.) capitulated (cut net long exposure to silver) to the tune of roughly $1.5 billion during the week ending November 10th.
Silver is now in a bullish seasonal period for the next few weeks (through the first week of December) and January is historically a very bullish month for silver: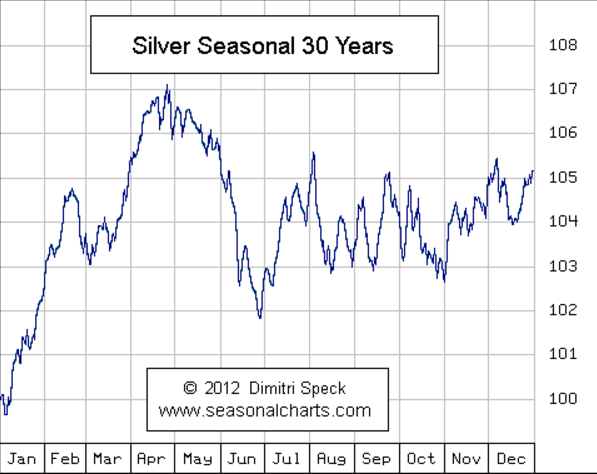 Call me crazy but all of this adds up to a fairly attractive long entry point in this beaten down metal. For short term traders placing a stop just below the $13.90 level (in December silver) limits your risk to barely more than 1% with the potential to easily capture 5-10% of mean reversion should the seasonal tailwinds kick in.