Less than a month ago nobody wanted anything to do with the yellow metal, now suddenly everyone is bullish on gold and the herd is cramming through a narrow doorway trying to get long:
GLD (Daily)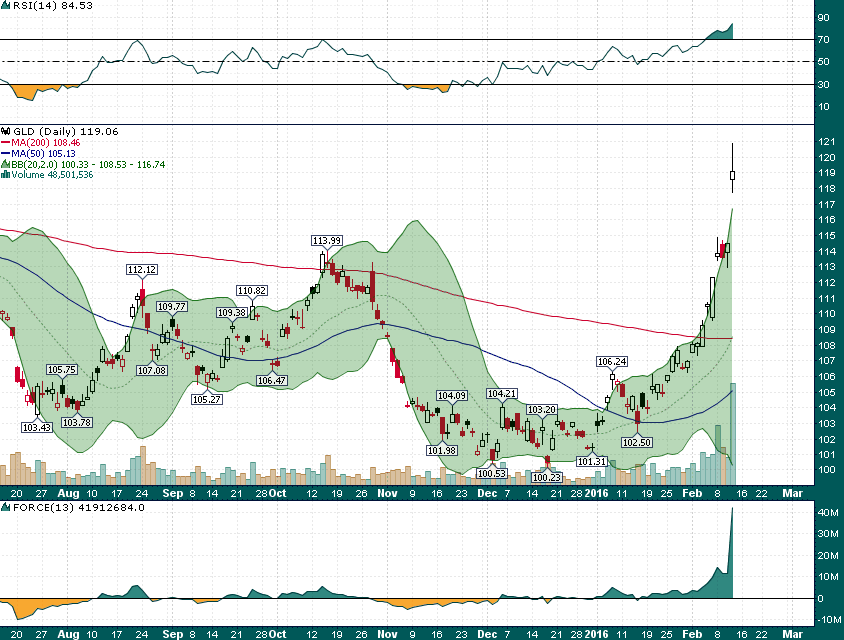 The GLD exchange-traded fund has gone parabolic with a daily RSI(14) of 84.53 and a Force Index(13) that is completely off the charts (below chart). GLD gapped higher well outside the upper 2-standard deviation Bollinger Band and posted one of its highest volume days in history while trading 7x its average daily volume and printing a 'shooting star' candlestick.
Options traders have also taken to chasing the momentum in gold bidding up GLD call option implied volatility above the implied volatility of put options for the first time in history:
This massive shift in the GLD 'put/call skew' is primarily indicative of two things:
A great deal of emotion among traders during the recent rally (bearish short term)
A seismic shift in sentiment as traders turn optimistic on gold after 3+ years of pessimism (bullish longer term)
GLD options also traded 4x as many calls as puts today on nearly 4x average daily options volume. The following clip from CNBC earlier in the day sums up the current mood around gold quite nicely; Mark Cuban touting a GLD call option momentum trade that he's profitable in.
Stuff like this helps to stoke the speculative animal spirits of market participants, while there's no telling how far the upside momentum can run there is ample evidence to suggest that today was an emotional climax for gold and the GLD.